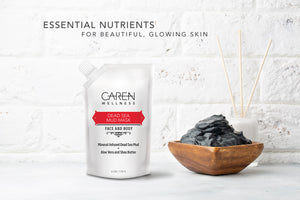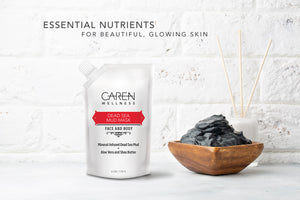 On Sale
WELLNESS - DEAD SEA Mud Mask - 6 oz.
FACE & BODY Mineral Infused Dead Sea Mud + Aloe Vera and Shea Butter
Dead sea mud has been used for centuries for beautiful, glowing skin. Mud from the Dead Sea in Israel is rich in natural salts and minerals including iron, calcium, magnesium and sodium chloride which are essential nutrients for beautiful skin. This top-rated face + body mask has it all - it delivers, exfoliates and rids the skin of excess oil. This mud stimulates circulation and promotes a clear, well-hydrated complexion. Incorporate into your weekly skin care regimen for clear, healthy skin.
Escape to your home spa experience. Apply to a clean moistened face or body in a circular motion. Avoid the eye and lip areas. Relax for 10-15 minutes until the miracle mud dries. Wash off with warm water and pat dry. Reseal the Mud pouch to maintain its freshness.
100% NATURAL | FREE OF PARABENS, PHTHALATES, MINERAL OIL, GLUTEN, ARTIFICIAL COLOR, GMO'S | CRUELTY FREE | CRAFTED IN THE USA