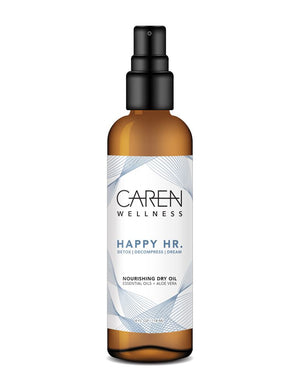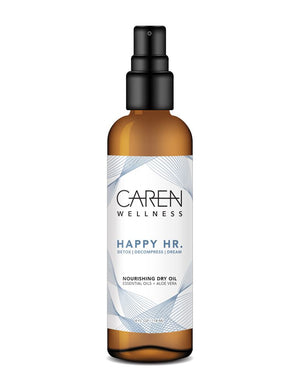 On Sale
WELLNESS - Caren HAPPY HR. Nourishing Dry Oil - 4 oz.
HAPPY HR.   DETOX | DECOMPRESS | DREAM
WIND DOWN- Essential Oils - Chamomile & Lavender
Our quick dry body oil spray hydrates and nourishes skin. A little goes along way and typically absorbs in 60 seconds or less leaving your skin silky smooth. Be sure to layer after your Dead Sea Salt Soak to continue the Spa Experience. The Happy Hr. Essential Oil blend relieves anxiety, tensions and pressure of a crazy day.
A 100% natural blend of quick absorbing moisturizing oils including sunflower, moringa, avocado, jojoba and olive oil + our proprietary blend of Eucalyptus, Peppermint and Aloe Vera.  
All Natural, Cruelty-Free, Safe on All Skin Types, Made in the USA